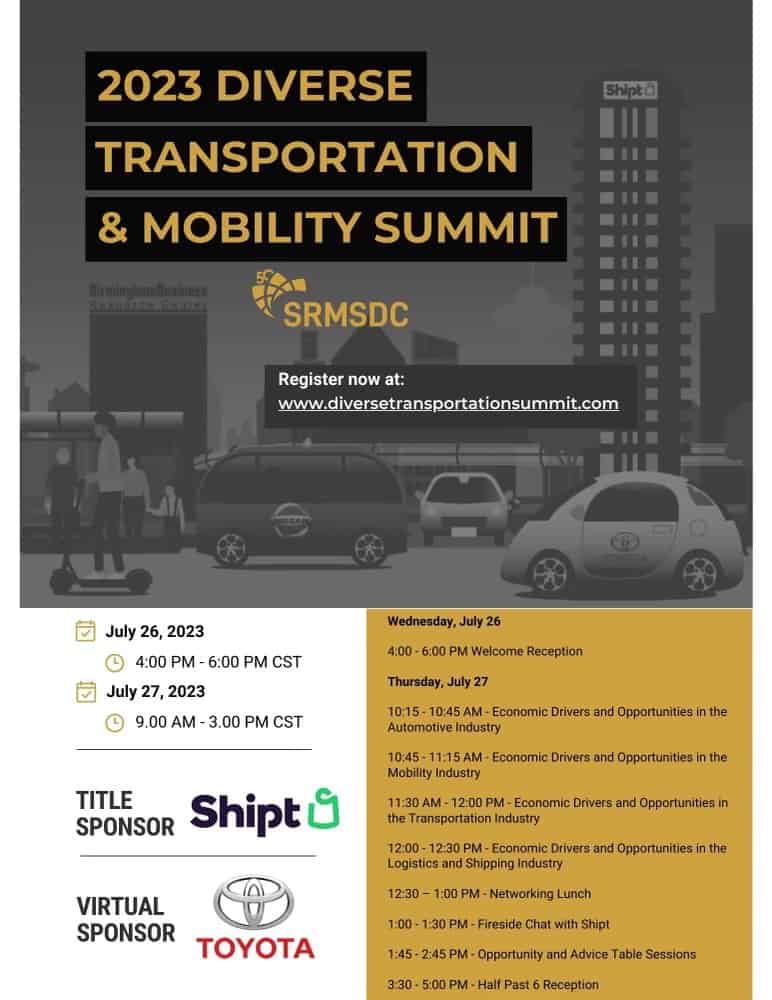 Diverse Transportation and Mobility Summit
The Diverse Transportation and Mobility Summit is the Gulf South's premier summit for corporations, government, nonprofits, and minority business enterprises. This one-day event draws leaders nationwide to Birmingham, Alabama, to provide a venue for thought-provoking discussion, relevant training, and efficient matchmaking for businesses that directly or indirectly support the automotive, mobility, or transportation sectors.
Primary Audience:  
The audience will consist of SRMSDC staff, corporate members, diverse businesses – ethnic minority and women-owned businesses – government officials, nonprofit organizations, and non-SRMSDC corporate members interested in learning more about supply chain equity.
Objective:  
SRMSDC, headquartered in New Orleans, is our stakeholders' important outreach and economic development partner.  SRMSDC helps identify MBEs who have the potential to participate in corporate supply chains which continue to create parity in diverse communities. The primary objective is to provide information to MBEs so they can prepare and manage future business opportunities and create an ecosystem for MBEs and corporations to do business with each other.
Attire:
The recommended attire for all events is business casual—branded apparel when appropriate.
​